LIONEL 6-30142 THE TEXAN RTR FREIGHT SET (FT AA) with6-38219 NON-POWERED FT B-UNIT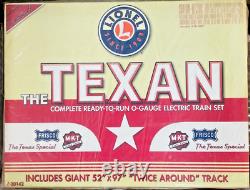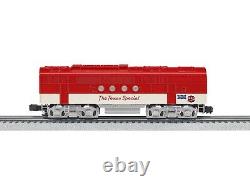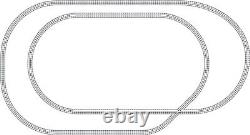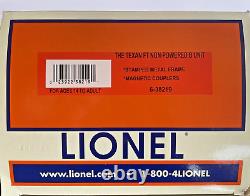 SET (FT AA) w/6-38219 NON-POWERED FT B-UNIT. Rugged, tough, and glamorous too, the FT units are dressed in the dazzling red scheme of the Texas Special. In addition, this special ready-to-run set comes with a deluxe, Texas-size set of "Twice-Around" track and a powerful CW-80 Transformer. "Twice-Around" track pack that includes the following FasTrack sections:-ten O-36 45-degree curves-nine 10" straights-one terminal straight-nine O-48 30-degree curves-one 5" straight-two 1 3/8" straightsone 1 ¾" straight-one 45-degree crossover.
Die-cast metal trucks, pilot, fuel tank. Operating couplers on both ends.
Powered FT A-Unit Also Features. Transformer controlled forward, neutral, and reverse operation. TrainSounds sound system with diesel engine revving, horn, bell, squealing brakes, and operator-controlled, multi-part dialog.
Dual powerful maintenance free motors. Die-cast metal sprung trucks and operating couplers. Die-cast metal non-sprung trucks on caboose. Opening doors and metal frame on boxcar and stock car. Metal handrails, platforms, and ladders on tank car. Roof cover with opening hatches on hopper. Interior illumination and operating lantern lights.
Each car in set individually boxed. Set Length: 78 ½ / Layout Dimension: Approx. Die-cast metal trucks- pilot- fuel tank. Operating coupler on both ends. I will be listing several O scale Lionel trains over the next several months.
Please take the opportunity to review my other listing. Please note that some of the boxes may have shelf wear. If you have any additional questions or need additional information, please send me a message. Thank you for the interest?