Kyosho RC 1/28 Mini Z JEEP WRANGLER Rubicon UNLIMITED Ready Set SILVER -RTR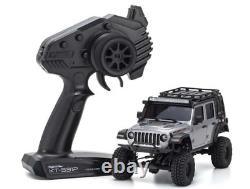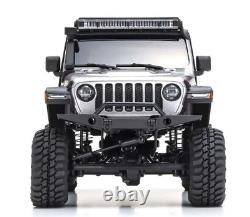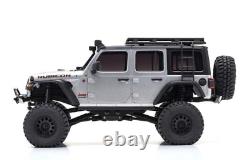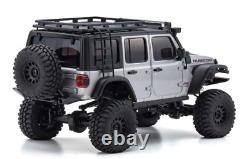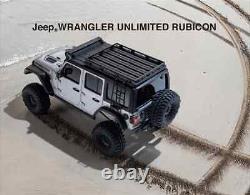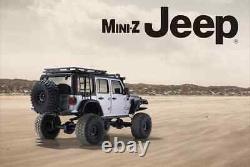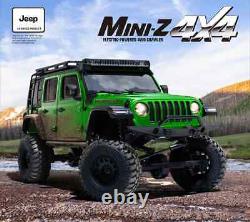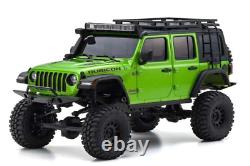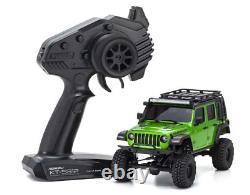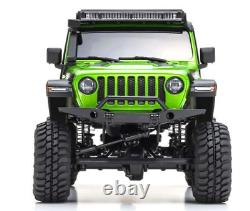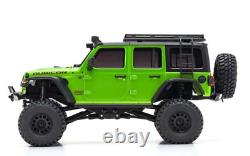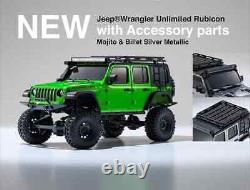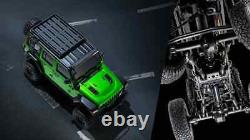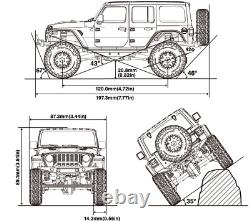 Kyosho RC 1/28 Mini Z JEEP WRANGLER Rubicon UNLIMITED. Kyosho MX-01 Mini-Z 4X4 Readyset Jeep Wrangler Unlimited Rubicon is now equipped with aggressive off-road tires and scale body accessories. The extremely popular American off-road SUV has been accurately downscaled to a table-top crawling size, including the iconic seven-slot grille and large fender flares as well as its unlimited rock crawling performance.
The MX-01 series is built with the attention to scale detail and quality design expected of Kyosho, and a design that allows MINI-Z fans to expand their horizons with climbing and crawling capabilities. This scale 4x4 beauty features a fine-tuned overall design, superior driving performance and high-quality injection-molded scale body and details.
Featuring a healthy addition of scale accessories such as a rugged roof rack with ladder, roof mounted light bar and safari snorkel. Mini Z Molded Body Details. Injection molded bodies enhanced with accessory parts recreate a level of detail in the MINI-Z 4x4 series that surpasses all MINI-Z bodies that have come before. The same ladder frame and multi-link rigid-axle suspension commonly used in popular 1:10-scale off-road models is condensed into Mini-Z size for the most articulation and performance available in any mini RC truck.
PAINTED BODY: Fully pre-painted body looks like a luxury diecast car replica. The thicker body material also provides superior durability. Succeeding through a series of grueling off-road tests, this Jeep has earned the "TRAIL RATED" badge it wears proudly on the left side as a mark of its proven off-road performance. This MINI-Z 4x4 version embodies the spirit and performance of the original Jeep® for you to enjoy. SCALE BODY ACCESSORIES: Featuring a healthy addition of scale accessories such as a rugged roof rack with ladder, roof mounted light bar and safari snorkel.
FRONT GRILLE & LED LIGHTS: The signature seven slot front grille of the Jeep® has been reproduced in immaculate detail, including back mesh netting. Original cut design of the headlight lenses, indicators and tail lights are reproduced as clear parts so you can incorporate the optional LED lights to enjoy an ultra-realistic car experience. MATTE BLACK PAINT: Matte black coating enhances the texture of the Freedom Top® and the black overfender that wraps the trapezoidal wheel arch. The highly detailed finish is applied to mirrors, wipers, door handles, tail light protectors as well as the bonnet grille, bonnet hood catch and radio antenna. However, the keyhole is finished in silver. BODY MOUNT: A one-touch body mounting system is used instead of the mounts commonly used on all previous Mini-Z cars and trucks. The system uses spring-wire retainers to quickly and easily install and remove the body. LADDER FRAME: The Mini-Z 4x4 incorporates a ladder frame design with steel vertical plates, in combination with various molded parts, to deliver the ultimate balance of of rigidity and flex for superior performance and durability.
SOLID AXLES: Solid front and rear axles feature links with steel rods and captured rod ends. Ring and pinion gears, in addition to other gears and components, feature metal construction to withstand the heavy loads under the toughest driving conditions. STEEL LINK & BALL END: The upper A-arms and lower links that connect the front and rear axles to the chassis, feature strong steel links and captured ball ends.
This is the ideal design for strength, maximum range of motion, and smooth operation. COIL OVER TYPE, SHOCK ABSORBER: The shock absorbers feature 360-degree spring retainers, which means they can't be lost on the trail and the springs are more likely to re-seat when the suspension settles after hard impacts or operating at the extreme limits of the suspension. The spring retainers simply cannot come loose.
ADJUSTABLE WHEELBASE: The 4WD system transmits drive force to the wheels from the main gear unit in the center of the chassis through front and rear center shafts. The wheelbase can be set to either 110mm or 120mm by adjusting the length of the spacers on the upper arms (the Jeep® uses a 120mm setting). STEERING ANGLE: The front axle features ideal Ackermann geometry. Combined with the advanced design of the axle housing and the other steering components, this model features the tightest turning radius in Mini-Z history. DRAG LINK & TIE ROD: The steering servo drag link and the rugged molded tie rod are part of a steering system that delivers an incredible amount of steering angle, which results in excellent rock crawling capability. TIRES & WHEELS: This model features a scale reproduction of Toyo Tire's export brand "Nitto Ridge Grappler" tires mounted on custom wheels. BATTERY TRAY: Four AAA batteries are located on top-front section of the chassis to ensure good ground clearance and achieve realistic rock crawler performance. GEARBOX AND GEARS: The gearbox features molded covers and includes 6 pinion gears that allow adjustment from ultra-low gearing for steep terrain, through to high-speed gearing for smooth running on flat roads. In addition, the need for annoying backlash adjustments has been negated with the special spacer mounted on the outside of the motor. SLIPPER CLUTCH: A standard slipper clutch protects the drive system by reducing the torque when excessive load is applied. Note the metal upper shaft and primary gear for durability.
18 FULL BALL BEARING SPECIFICATIONS: The best drive efficiency is accomplished with the included set of 18 ball bearings, factory installed to ensure the smoothest most efficient operation possible, right out of the box. 130 MOTOR: The Mini-Z 4x4 features a specially-designed high-torque motor that is unique in the Mini-Z World. It's optimized for maximum torque, and it develops more power at lower speeds. SPEED CONTROLLER: The on-board electronics are also unique to the Mini-Z 4x4, with special features that improve the crawling experience. The accessory ports on top of the board allow an optional gyro (KYOMZW431) and an optional LED light set (KYOMZW429R) to be easily plugged in to enhance performance and realism.
STEERING SERVO: The component steering servo features its own casing to allow enhanced performance, and it connects to the receiver/ESC with an independent connector. FHSS / KT-531P TRANSMITTER: Included KT-531P transmitter operates on FHSS 2.4GHz and features steering/throttle trim in addition to dual-rate adjustment of steering angle and LED control functions. Control feel has improved with adoption of sponge steering wheel. Gyro effect can be fine-tuned through volume adjustment.
Not compatible with conventional ASF/MHS/FHS 2.4GHz systems. Also not compatible with KO I. Light Unit Trim: Use to turn lights off/on when optional light unit is installed. Steering Dual Rate: Adjust amount of steering throw. Steering wheel: Sponge grip of the steering wheel provides comfortable fit for precision control feel.
Track Width (F) : 77.0mm. Track Width (R) : 77.0mm.
Gear Ratio : 55.44, 46.20, 39.60, 34.65, 30.80, 27.72:1. Tire Diameter (F/R) : 40.5mm/40.5mm. Tire Width (F) : 18.0mm. Tire Width (R) : 18.0mm.
2.7 - 5.4 km/h. Complete chassis with built-in electronics. Factory-painted body complete with scale accessories. Pinion gear set 10T, 12T, 14T, 16T, 18T, 20T.
3 types of motor spacers. (4) AAA batteries for the transmitter. (4) AAA batteries for chassis Alkaline or NiMH.
This item is in the category "Toys & Hobbies\Radio Control & Control Line\Other RC & Control Line". The seller is "rcworld" and is located in this country: US. This item can be shipped worldwide.
Required Assembly: Ready to Go/RTR/RTF (All included)
Brand: Kyosho
Color: Red
Scale: 1:28
Fuel Type: Electric