Bachmann Trains The Stallion Ready To Run Electric Train Set N Scale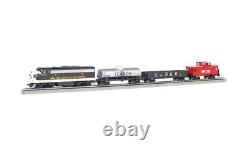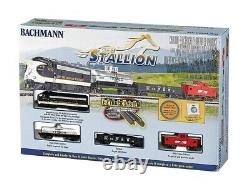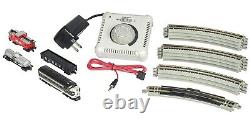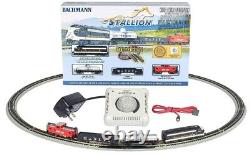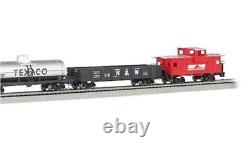 Bachmann Trains - The Stallion Ready To Run Electric Train Set - N Scale. Powered by a F7-A Diesel Locomotive with Operating Headlight. Includes; Gondola Car, Single-Dome Tank Car, and Wide-Vision Caboose. 24 Circle of Nickel Silver E-Z Track, Power Pack and Speed Controller. Recommended For Ages 14 & Up.
THE STALLION Ready To Run Electric Train Set - N Scale: Galloping down the rails, The Stallion shows off its sleek lines as it races to the finish line. This spirited steed will be the champion of your N scale stable!
This ready-to-run train set includes: F7-A diesel locomotive with operating headlight, gondola car, single-dome tank car, wide-vision caboose, 24 circle of snap-fit E-Z Track including 11 pieces curved track and 1 curved plug-in terminal rerailer, power pack and speed controller, illustrated instruction manual. Product Dimensions: 24 x 24 x 1.3 inches. Discover Everything Bachmann Trains Offers to Get Started in Model Railroading. Since 1833, Bachmann has been known for providing innovative design at a good value.
We are now one of the world's largest distributor, by volume, of ready-to-run train sets, locomotives, track, and accessories. Bachmann is also the only train company to offer products in all five of the most popular scales: N, HO, On30, O, and Large Scale. As a distributor of beloved Thomas & Friends products, Bachmann brings the adventures of Thomas the Tank Engine to life with a growing line of complete train sets, separate sale items, and accessories for children from 8 to 80-just add your imagination. Thomas & Friends is available in both HO and Large Scale. Bachmann's exclusive snap-together E-Z Track System makes track setup quick, easy, and fun.
And SceneScapes buildings and accessories let you add the finishing touches for the perfect layout. If You Are Purchasing a Train Set, It Will Include. E-Z Track - available in either black roadbed with steel alloy rail or gray roadbed with nickel silver rail. Decide where to set up your train - a dry, firm, flat surface works best! To make sure you have enough working room, make a test track layout by loosely placing track in desired configuration.
The terminal/rerailer section will later be connected to a power pack and power supply, so place it near an outlet or power strip. Install under-track magnet, if your set comes with one. If your set does not come with one, magnets are available separately HO Item No. 78999; N Scale Item No.
Assemble the track by pushing together. Make sure the rail and joiners are seated properly. Be careful that the rail joiners do not slip under the rail without properly connecting. This can cause train derailments and electrical circuit interruptions.
After track is assembled, double-check for joint connection and fit by lightly running your fingers over the top of the rails in both directions. If you detect bumps or distortion on the track surface, recheck the rail joiner fit. Power supply and speed control are plug and play; no tools are needed.
Power is supplied to the track and the locomotive by the power supply, speed controller, terminal wire, and E-Z Track terminal/rerailer. First - turn knob on the speed controller counterclockwise until it stops (all the way to the left). Next - attach terminal wire to the speed controller by plugging it in where it says'To Track'.
Then - plug terminal wire into the E-Z Track terminal rerailer. Firmly push connector onto the track terminals. Finally - plug the connecting wire from the power supply into jack on the speed controller labeled'In'. Then plug power supply into a live wall outlet. Some sets may come with a speed controller with two push button connectors.
These are used to supply AC power to accessories. To make positive and secure connections to these, push in buttons and insert each of the bare ends of the connection wire from your accessory. The speed controller is capable of powering one accessory at a time. Putting the Train on the Track. Put the locomotive on the track and run the wheels back and forth over the terminal rerailer track.
When the wheels glide smoothly over the track, you know the wheels are all on the track. If your set comes with a tender, attach it to the locomotive. Add the rest of the cars that come with your set by placing them on the track and running them back and forth over the terminal rerailer until they glide smoothly. Then gently push the cars together - they will engage automatically.
Do not try to connect cars when positioned over an under-track magnet.